Published August 23 2002
Translated February 10 2010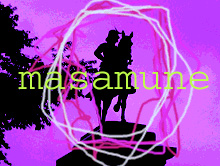 This summer I resolved to do something I've long dreamed of: to go on my first trip by myself!! Faced with an unexpected two-day hole in my schedule, I pondered how to best use my time and set out at once for the bookstore. I settled on a destination while flipping through a stack of travel magazines. From there I wasted no time in purchasing tickets. A textbook example of striking while the iron is hot.
As for the destinations I chose…Sendai & Matsushima. Not for any special reason—I chose that area mostly because I haven't seen much of northeast Japan. That, and when I was young I watched the "Masamune: One-Eyed Dragon" drama series on NHK, and I found Ken Watanabe, who played Masamune, to be so dashing that he sometimes appeared in my dreams (one was a dream of riding an escalator with the armor-clad Masamune), so I can't deny a vague sense of destiny guiding my choice…
I've taken the bullet train more times than I can count, but come to think of it I've never bought my own ticket. Even at the airport, someone else always handled matters at the check-in counter. Although my work has taken me to many places, I get around via taxis rather than walking. One day I suddenly found myself thinking, I'm a 22-year-old adult—is it really OK to be like this?!
Besides, I like being alone. I find shopping or movies more enjoyable when I'm alone than when I'm with someone. I also enjoy hanging out with friends, but as I'm more suited to working alone than in a group, I imagined I would definitely be suited to traveling alone.
So this trip ended up being my first time to buy my own ticket, as well as my first time to make my own hotel reservation. I did my homework on Sendai as I paged through the guidebook I bought. I made mental notes of important facts: "Hmm, definitely have to try the zunda-mochi." "Can't afford to miss the beef tongue." "I'll make sure to pick up some bamboo kamaboko."
And although I was only spending one night, I planned my own sightseeing course through Sendai and Matsushima, and my anticipation blossomed.
What does it mean to be "alone"? The word comes up frequently in my songs. It rings with both solitude and staunchness—a word that conveys strength and weakness.
There are times when I'm pained by a sadness that comes from feeling utterly alone. For instance, when I realize there are limits to how far I can see into someone else, no matter how close that person is.
But upon returning from this trip it occurred to me that humans can't feel lonely when they're truly alone. Going to a place where you have neither friends nor acquaintances is like going to a foreign country, even if you speak the same language. Everyone looks the same, and you lose track of which way you're walking. But if you press on past every last streetcorner, past wandering and wrong turns, more and more you catch sight of many things. In your travels you strike up conversations, make friends, and create memories. This is where "loneliness" is born. I'll miss this place when I leave… I don't suppose I'll ever see this person again… Earlier, when you were out walking on your own, such lonely thoughts hadn't even crossed your mind.
The existence of someone other than yourself brings with it the realization of lonelines. Were you truly alone, you might never come to know loneliness.
Well then, I'll save the stories from my trip for another time. I'll also talk about them on the radio. Check back later.
maaya