Published July 19 2002
Translated February 10 2010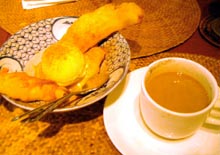 I'll never forget the Indonesian food I had in the U.K. during my stay in London for recording. I had barely stepped out of the studio that day when I realized I wasn't feeling well. It may have stemmed from the nervousness of my first trip overseas for recording. Or perhaps from finally being able to take a break from everything. Although I was fine earlier, my body suddenly felt heavy and my appetite disappeared. I worried I might have caught cold, so I had the chicken coconut soup, thinking that eating something hot would help. It was amazingly delicious―the soup alone made my cold evaporate better than any medicine, and I was back to my old self.
Since then I've really wanted to find a good Indonesian restaurant in Japan, and I discovered one just the other day. At last, the flavor I've been after!! Right here in Tōkyō!! What luck! This find made me a happy camper today. I tried nasi goreng (a famous dish), a kind of salad called gado-gado (with a sweet and spicy peanut sauce), and that dish with beef braised in spices (and it's spicy!), and everything was magnificent!! I can't stop talking about how absolutely incredible this food is!
For dessert I had a fried banana dusted in cinnamon called pisang goreng (see picture). It was served à la mode. You might balk at the idea of frying a banana, but it's surprisingly crispy and rather light―reminiscent of apple pie. From what I hear it's a standard dessert in Indonesia. It matched perfectly with Balinese coffee. The coffee had an earthy, strong flavor, but I loved it from my first sip. Perhaps my taste buds are more suited to the flavors of tropical countries―after all, I also love Okinawan cuisine and dried mangoes. I used to not be able to handle spicy foods at all. Only recently have I gotten over this, so maybe this means I've grown up.
It was scorching today—just the kind of day when you should have something spicy! Indonesian cuisine tastes best when you're squinting with the spiciness. I can see myself coming back to this restaurant many times. The wait staff is very kind and leaves no room for complaint! Although none of them are from Japan, they speak fluent Japanese. On the way home I thought about how nice it would be if I could create those flavors, so I stopped by a bookstore and perused the Indonesian recipe collections. I picked up a little Indonesian just from learning the names of dishes and ingredients. I'm totally hooked. I want to have Indonesian food tomorrow. And the next day. Maybe every day.
Where is this restaurant, you ask? That, my friends, is a secret. After all, I found it first!! You'll not learn its location so easily from me. Hahahahaha!!
maaya