Published July 12 2002
Translated February 10 2010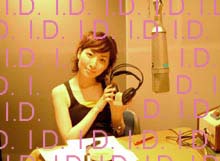 The other day we started taking e-mails for the first time on the "Maaya Sakamoto: I.D." radio show. Until that time we had only accepted postcards. We published the address just a few days ago, but already we have a stack of e-mails! I'm so excited to see such a quick response from so many. I'm looking forward to reading your messages!! That's all the announcements for today. See you later.
Photo: in the "I.D." recording studio
P.S.: After recording on this day, I went out with the staff on an excursion, the first in a while. By "excursion" I mean dinner. I'm pretty much always going out to eat with the I.D. staff, but musical rehearsals and such kept me busy until last month, so we last went out quite some time ago. We got to talking about where to go eat, and placed a reservation at a great restaurant (a modern sushi place in Omotesandō). Ever since the Victor staff took me there once it's been one of my favorite places, particularly since the Uji Latte drink they serve is great… What? It's not on the menu?! This can only mean the Uji Latte is no more. Such a shame. But the food was excellent as always, so I was more than satisfied.
maaya