Published June 6 2002
Translated February 10 2010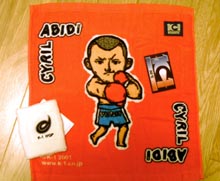 I made a guest appearance this week on BAY FM during a live afternoon broadcast.
Yuriko Fuchizaki hosted the show. I've appeared on her show many times over the years. We conversed about many things on this week's show in between playing two tracks from "Music for 11 p.m.". Did all of you in the Kantō area have a chance to tune in?
Somehow Ms. Fuchizaki got wind of the fact that I'm a fan of martial arts, and she gave me a souvenir towel from one of my favorite athletes, Cyril Abidi, and a K1 Grand Prix wristband! (See picture) I was so happy!! I'm going to take them with me next time I go to the gym. I'm so thankful to the staff for this.
During the broadcast I was asked, "Who do you think will win the World Cup?" Although I stammered out "I-, Ireland," I have to apologize. My knowledge of soccer is precisely zero. I don't know the rules, and I can't match the players' names with their faces. I can't even name the participating countries. But I at least want to keep up with this fever that's sweeping through society. So despite my total ignorance, I read through the list of countries and went with Ireland on a whim. Not the best way to choose, I know. It would be pretty incredible if I'm right, but I kind of wonder why I didn't answer with "Japan!" Of course I'm cheering for Japan with all I've got. Were you there at yesterday's (6/4) photo shoot, you would have found me glued to the TV, watching the match. I cheered louder than anyone else, despite not knowing the rules. Suzuki, Santos, Ohno—I shouted all the names I could remember. Kawaguchi, one of my favorite players, didn't play yesterday, but whenever they showed a shot of him sitting on the bench I yelled, "Kawaguchi!" Once I even mistook the opposing keeper for Japan's coach and called out, "Troussier!" I completely lost myself in the excitement of watching the game. After it was over I was dead tired. I didn't have the energy to go back to work, so for a while I just chilled out. I was beat. Naturally I'm looking forward to the next match. Go Japan!
maaya