Published May 7 2002
Translated February 10 2010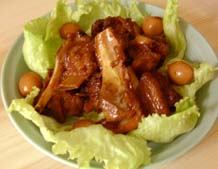 I had today off, so I spent some time at a friend's home. I was lured over by my friend's promise to cook dinner.
On the menu were spareribs (see picture), a prawn and avocado salad, and a tuna and perilla omelette. Everything was made from foods I love!! It was truly delicious. We chased our meal down with a beer while it was still light out. It was pure bliss.
Later we drank chai as we enjoyed the yummy cake I bought for dessert, topping off a wonderful day of epicurean delight.
And once I spied my friend's Super Famicom version of Sim City (a city-building simulation game I love), I couldn't tear myself away from it. It's really a plain game. But it's so much fun. I hadn't played it recently, and I lost track of the time as I lost myself in playing "mayor". Ah, I couldn't have asked for more.
It's been a while since I've had such a relaxed holiday.
maaya