Published March 10 2009
Translated July 19 2010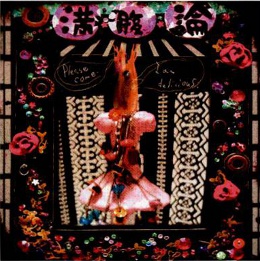 There are foods which leave me in awe of the people who first tried to eat them. Like durian. The guy who decided to eat such an offensive-smelling thing must have been starving.
To me, shrimp are a mystery. No matter how you slice it, they're bugs. And I pretty much loathe bugs. I can think of nothing—even ghosts and goblins—in this world that is scarier than bugs. As such I find everything about shrimp, from their long antennae to their excessive legs to their bristly mouths, to be terrifying. There is absolutely no way I can eat any shrimp dish in which I can still see the shrimp. Especially shako—I cannot comprehend why there are people who want to eat such things.
Yet shrimp enjoy worldwide fame and the love of a wide range of people, from children to adults. They turn up everywhere, in Chinese, French, Japanese, and ethnic cuisine. And they do so in those defining moments, with an air of having waited for the time to be ripe.
Yes, I am well aware of the fact that shrimp are delicious. I can eat them sliced, minced, or in other forms that hide the original shape. Like everyone else, I love the flavor of shrimp. This is why, when a shrimp-adorned plate arrives unexpectedly at my table, I have been wounded time and again by the frustration of wanting to eat it, yet being unable to. In order to avoid putting myself in that situation, I have made a habit of always confirming the absence of shrimp before I place my order. Especially when having a full-course meal, or when I entrust the contents of my dinner to the chef at the sushi counter.
This is why I made that request on that day—"I'll have anything without shrimp, please."
The sushi restaurant I was at was a place that had come with the fairly enthusiastic recommendations of my staff as "the best sushi in Japan!" Only large enough for a counter, I found it at the end of a narrow road, with a hideout-like atmosphere of a place known only to insiders. The owner, whose aura was unmistakably that of a veteran of his craft, was a slightly intimidating man in his 40s or 50s.
In response to my request to avoid shrimp, in a low voice he asked, "Allergic?"
"No, that's not it, I'm just not very fond of…"
"So you can eat shrimp?"
"…Yes, I…can, for the most part…"
His words were few, but I thought I saw a brisk glimmer of something in his eyes, and I couldn't say anything more. There. A stubborn streak. I guess I have no choice but to go along.
After I recovered from the knockout flavor of the first round of herring, every variety that followed was astonishingly delicious. With my senses overwhelmed and thinking this might indeed be the best in Japan, just as I had forgotten, there they were. Shrimp. And not one, but three kinds. Is this a challenge from the chef? Bringing out three kinds of the shrimp I said I wasn't fond of, and all at once. And isn't one of those that despicable shako?!
But I could run away no longer. I steadied myself, closed my eyes, and took a bite…!?
A—, amazing! This is amazing! It was wrong of me to say that I hate something so delicious without trying it…. You're the best chef in Japan!
Although I still cannot convince myself to eat shrimp anywhere except this restaurant, that evening I took a step closer to the peaceful resolution of my longstanding conflict with it. Hooray for stubborn old men. I couldn't ask for more.