Published November 10 2008
Translated July 6 2010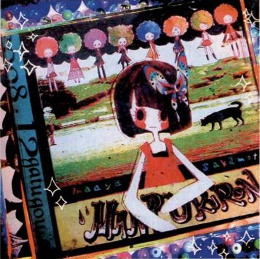 When I played the lead role of Hitomi Kanzaki in "The Vision of Escaflowne", I was 16. That was more than 10 years ago. This year has brought several opportunities to think back on those months surrounding my debut.
For instance, in "Macross F" I had the privilege of singing the theme song "Triangler", and Shōji Kawamori, the general director of "Macross", is also the original author of "Esca". And composer Yōko Kanno and I have known each other since I sang the theme for "Esca". This summer I also worked with Director Kazuki Akane for the first time in a while on "Birdy the Mighty". Mr. Akane marked his directing debut with "Esca", and he was the one who chose me at the audition. And Producer Masahiro Minami, under whom I am working on "Soul Eater", was part of the "Esca" staff, together with Audio Director Kazuhiro Wakabayashi. "Esca" was practically my first foray into the voice acting business, and though I didn't know left from right, these people taught me many things as a teacher would.
In addition to these are Ai Nakajima, who played the role of Ranka in "Macross F", and Chiaki Omigawa, who is playing the role of Maka in "Soul Eater". When I see these teenage girls putting their heart and soul into difficult characters, it brings back memories of myself way back when. It sounds silly for someone in my position to say this, but these girls are absolutely adorable, and you can't help but cheer for them. These days my heart is filled with a renewed sense of the kindness with which my fellow castmembers treated me when I was 16, and of how much they supported me. Now it is my turn to support the younger generation, and I even feel my own sense of duty that the time has come for me to pass the baton handed to me by those who went before.
At that time, having just stepped into in the animation industry, the encounters I had with so many fantastic "grown-ups" have become something for which I wouldn't trade the world. Whenever I saw the height of their passion, permitting not the slightest concession, I realized "work is a no-holds-barred contest," and when I saw everyone working with spirited vigor, I learned firsthand that "work is something fun." I think that perhaps in the 12 years since then, having been through more pleasant and painful things than I can count, the reason I am still in the end unshaken in my resolve to continue in my line of work is the allure found in the ways my many role models in life approached their jobs—ways they showed me through their actions.
The other day Kōki Uchida (currently in high school), who plays the role of Soul in "Soul Eater", offered me some souvenir sweets he had brought back from Okinawa. He had actually taken the prior week off of recording to go on a school trip. "That reminds me, Maaya, you once took vacation for a school trip," Audio Director Wakabayashi said. Right, I remember now…but you know…? I can't seem to recall buying souvenirs back then…. I've been careless about those things since forever…. But kids these days sure know how to handle themselves. I'll help myself to some sweets—with all this, I couldn't ask for more.