Published June 9 2011
Translated June 14 2011
The Tōkyō International Forum saw the closing performance (on June 4th) of Maaya Sakamoto's first truly national tour, Maaya Sakamoto Live Tour 2011 "You can't catch me". On this tour, the finale for the "15th Anniversary Project", which began on March 31st of last year with a concert at the Budōkan, she attained—while overcoming the effects of the earthquake—tremendous growth as a singer and artist. You could feel this straight away at this wonderful concert.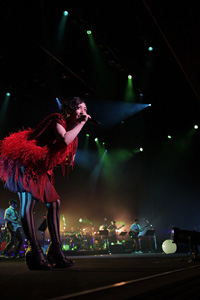 Following an opening video sequence which featured a double-decker bus adorned with "You can't catch me" on its side heading toward TOKYO, a pleasant, fast-paced piano melody starts to play. Applause and cheers break out at the sight of a large silhouette projected onto the white curtain covering the stage. Immediately afterward the curtain falls, revealing the silhouette's owner, wrapped in a chic black dress, and the concert begins with the first track on the album You can't catch me, eternal return. The vocals, a combination of precise pitch, emphatic emotion, and beautiful resonance, instantly fire up the entire audience. She follows with Secret and its signature melody tied with hints of melancholy, slipping in a greeting of "Good evening! This is Maaya Sakamoto!" before heading to a version of DOWN TOWN (a cover of a Sugar Babe track) that incorporates elements of ska and jazz, as well as Spica, which begins with the line, Thank you for being there for me. The fact that she is enjoying the music with every ounce of her being shows through in her smiling, nimble dance along the rhythms.
During her first talk between songs, she comments on how this concert was originally scheduled for April 24th but was postponed due to the effects of the disaster, saying, "I'm sorry to have kept you all waiting." She continues, "At the Budōkan I said that 'every day is a special day that only comes once.' Those words have encouraged me, and I think that's what has brought me this far. So for today too, I'd like to put on a concert just for today, June 4th," and spoke intensely of her feelings with regard to this concert (as well as the entire tour).
Leaving a particularly strong impression during the middle portion of the concert was Our History, which was added into the setlist for the restarted tour after the disaster. In the midst of a sound drawing from a motown-style rhythm, the lines that read, I don't know much about tomorrow / But when it comes to the future, I do / Everyone's in the middle of searching / For what it is they want to do, today hold an important message which, I think, many people seek. Her vocals, with such emotion poured into each and every word and woven from there into universal song, are truly amazing.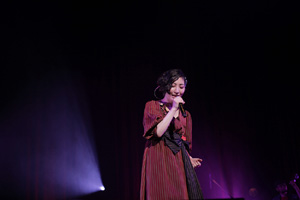 After an instrumental version of Cats and Dogs (I found the jazz-infused rendition intoxicating…) the concert continues with a series of numbers having an acoustic touch. The refined melody fused with singing that closely resembles prayer in Remedy, the sad emotion and positive outlook shown by the words, Even so, the sun will rise tomorrow, which come through in Too Sad to Go On (a cover of a Folk Crusaders track), the atmosphere of the highlight song Moonlight (Or, "Music for You to Sleep By"), and then Universe, which paints a picture of the fundamental loneliness borne by all mankind and the preciousness of life. These songs, colored in bold shades of compelling emotion from the depths of the artist Maaya Sakamoto, steadily enfolded the audience in a powerful, deeply stirring way.
Following this she again speaks to the audience. She speaks of the conflict and hesitation she felt around the restarting of the tour, and of the frustration of not being able to do anything for those who are in so much need. As she pondered these many thoughts in her heart, she tells of how she arrived at the realization that "being embarrassed to feel enjoyment, to relish one's food, or to be happy—isn't feeling guilty over this an insult to your own self, your own life?" She continues by saying that she hopes we would not forget to pass on to others the happiness we have each felt, and I feel that in the following performance of A Jet Waiting for Wind ~kazeyomi edition~, the warm atmosphere expanding from the line, Take my hand, and we can fly, as long as I'm with you, marked one of the climaxes in this concert.
After Private Sky, driven by a drumline that feels like an all-out sprint into the wind, comes a string of up-tempo tracks with a pop sound: Get No Satisfaction!, built around its sharp guitar riffs (I imagine many there recalled how she herself played the intro at the Budōkan), Magic Number, shining with a positive tone, and Let There Be Light, in which she sings resoundingly of the strength to trust in love. I cannot help but be struck by the sight of her as she bathes in the enjoyment of the music and strives to bring the audience together as one. The fact that at one time she was "afraid of concerts"—something she herself had mentioned from the stage—seems impossible to believe. And finally, closing out the main session is Topia, the last track on You can't catch me. In this song, where one can find her feelings toward her hometown of Tōkyō, she invites each member of the audience to their own "place in their memories", and you could not deny the gentle, beautiful strength indwelling this number.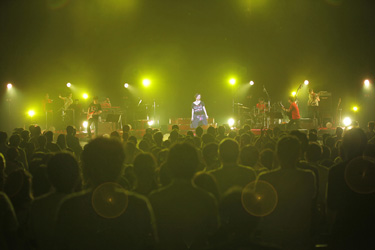 The encore brings no end to the striking scenes that hit me as things I will probably always remember. Following an introductory comment of, "This is the song I wanted to do on the anniversary of my debut, April 24th [the original date for this concert]. We missed that date, but I still think it's one I have to do," comes her debut song, I Don't Need a Promise, followed by the colorful pop melody of stand up, girls!, which heightens the emotion in the crowd even further, everywhere, drawn from a theme found during her travels across Europe two years ago and the first song she both composed and wrote lyrics for, and finally concluding with, "When I hear all of you sing, I see why concerts are so fun, and I feel I have the strength for tomorrow. Please sing every line with me!" before the all-audience rendition of Empty Your Pockets. It was a deeply profound concert where every song had a sense of necessity defined as "a song she can sing here, now." On this day she spoke of how she "pressed her thoughts all the way to such things as 'What is a concert?', 'What is music?', and 'What is work?' I think there are times when you can take those feelings and give them form." The things she felt on this tour will likely be reflected boldly in her future music. After surpassing the 15th anniversary of her debut, it appears Maaya Sakamoto is today headed toward an even more fruitful season as an artist.
[Japanese] text: Tomoyuki Mori