Published August 19 2002
Translated June 9 2010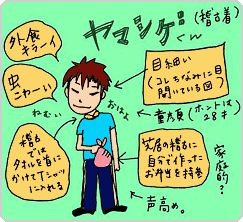 My sixth guest is Shigenori Yamazaki, an actor who is currently making waves on television and the stage. I call him Shige. He belongs to one of my most favorite theater troupes, Kamu Kamu Minikiina. He's currently playing the role of Kenta Hasegawa in "Starwatching", a drama broadcasting on Fuji TV. There's one really slender person in the stunningly beautiful lineup of actors like Kenji Sakaguchi, Jō Odagiri, and Hideaki Itō, and that's Shige.
I'm also keeping up with this drama. Put very simply, Shige's role is that of a 25-year-old fish dealer who loves the stars. Ahh, I wonder what'll happen on next week's show.
I first met Shige about, hmm, when was it?? Maybe five years ago? We had roles in the same animation for about a year. Also, last year we happened to be on stage together, and we've become even better friends. Now he's become a trusted companion who I wouldn't hesitate to call one of my best friends. I kind of get the feeling he understands a lot about me without me having to spend too many words to explain myself, but whether he actually understands is a mystery to me!
Anyway, to me he's sort of like a big brother, and I get him to hang out with me often. For instance, last year we went on a trip to Ōsaka with our fellow castmembers. Shige is of course popular as an actor, but he always wins the hearts of and is hugely popular with everyone who plays alongside him. For this month we'll see how Shige sees me…although, I'm worried about whether he'll give serious answers, but for the moment I'll try and ask my questions.
1) What led to your meeting Maaya Sakamoto?
We met in a studio for dubbing an animation. The anime was called "Medabots".
2) What do you normally call Maaya?
"Maaya-chan", but more accurately, I say it in a slightly nasal voice: "Maaya-chuwan".
3) What was your first impression of Maaya Sakamoto?
You never looked me in the eye once, so I thought you hated me. It was scary.
4) So what's your actual impression?
You're still scary.
5) Share one of your "Legends of Maaya Sakamoto".
I hear you hate frogs.
6) Is there anything you wish Maaya Sakamoto would stop doing?
That pet phrase of yours, "Hilarious!" Your eyes show you're not laughing.
7) Maaya Sakamoto is like _____. (A person, food, plant, animal—anything goes)
If you were a school year, you'd be the second year of junior high.
8) What do you anticipate for Maaya Sakamoto's future?
You're surprisingly young, so I hope you grow up to be an amazing woman.
9) Lastly, a word or two for Maaya.
Let's go to the planetarium sometime.
Shigenori Yamazaki
Actor. Member of Kamu Kamu Minikiina.
Currently playing the role of Kenta Hasegawa in "Starwatching", airing every Tuesday at 10:00 p.m. on Fuji TV networks.
Maaya Sakamoto's Response
That's it?! After I asked you to return your answers to me as quickly as possible, you make me wait for weeks and this is all I get?! Exactly what part of this took so long?! But I'm glad your answers are more down-to-earth than I expected, hahaha. But the second year of junior high?! Really?! And what's this "surprisingly young" bit?! How else do you expect me to be?! I'm still 22, thank you very much. Although I'm always getting told I look older, I guess.
And about my pet phrase, "Hilarious!" I hear about this all the time from other people, but now that you mention it, I have no idea how many times I say it in one day. And the times I really mean it aren't very many. Like I say it even when something isn't that funny. So there are a lot of times when I'm saying "Hilarious!" in a bored-sounding way, and everyone gets on me for that. Sorry… But I can't outgrow this one thing.
Now then, actually, since before Shige and I started working together five years ago, I was in the audience for plays put on by Kamu Kamu, and I've kept tabs on Shige ever since I was awestruck when I saw him on stage. Getting to work alongside such an actor by sheer luck was a huge surprise! By the way, Maaya Sakamoto, being the epitome of shyness, at first couldn't help but be so nervous that she couldn't talk to Shige, and tried her best to avoid him and not make eye contact. So the end result was Shige came away with a "scary" impression. I really don't understand it, myself. I wonder why I clam up like that…. Because of it I get misunderstood as being angry all the time. That's not it at all—I'm just nervous. I guess I have to work on that.
Incidentally, about that last comment, I love going to the planetarium, but since Shige is playing an astronomy enthusiast in the drama he's in, to get in some roleplaying (?) I promised a while back to go with him, but we still haven't had a chance to go. We'll have to go before the drama's over.
Shige, thanks for your cooperation. Best of luck with filming for the drama! Everyone, by all means please check out the dramas and plays Shige's in.