Published April 19 2006
Translated March 11 2010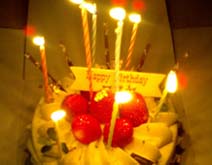 On March 31, I turned 26.
With the rise in the number of people younger than me in the office and talk of the 10th anniversary of my CD debut echoing in the halls, it seems as though recently my age has become a frequent topic of conversation. The other day I was chatting with a high school actress I'm playing alongside, and when I said, "I went through a time like that too!" she seemed flustered and didn't reply….
But 26 isn't all that grown-up, and it's not that young, either. It's that on-the-fence age. Things that you had used youth as an excuse to laugh off aren't permitted anymore, your skin heads downhill whether you want it to or not, you have more money to spend as you please but less time to enjoy it, and yet you still struggle to get the world to accept you as an adult—the 26-year-old's days are filled with dilemmas.
But in spite of this, I know in my heart that growing older is nothing short of marvelous. Every year I find happiness in celebrating my birthday with coworkers, friends, and family. Of course I can't forget about birthday cards from fans. As I read each heartwarming message, I feel truly thankful to have so many people who celebrate my birthday.
My goal with every birthday is to be able to say that I prefer my current self to the person I was a year ago. So far I think I've been able to say this every year. After all, everything that happened in between my last birthday and this one—good things, bad things, and things no one cares about—were elements that formed who I am now, so in turn I expect some good has come of them.
This year I celebrated my birthday with people I recently met, friends I've known forever, and many others in many places, and I felt a keen sense of being blessed.
Everyone, thank you so very much!
The 26-year-old Maaya Sakamoto appreciates your kindness!
maaya