Published April 8 2004
Translated February 24 2010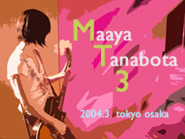 At 18, when I wrote the lyrics for "I.D.", despite authoring the lyrics myself there was an indescribable haze I couldn't dispel. I pictured myself trudging along toward some unseen, obscure place. I felt unsure of myself. Though I really had more I wanted to say, I had hit the limit of what I could put into words then, and I pinned "I.D." on my heart with its ambiguity, inexplicable assurance, and other contradictions intact. That's the kind of song it was.
And in March 2004, on the last day of Tanabota Live 3, I singled out "I.D." as the song I most wanted to sing at the time. I would have been the last to guess that this song would be waiting for me at the end of this tour. It may be that for me, Tanabota Live 3 was in a real sense my first concert. I felt the kind of elation that comes only from passing through prerequisite fear or suffering before attaining a feeling of enjoyment. In the end, it's not as if something has changed—I'm still plodding on in solitude, as unlearning and unreliable as ever, all the while giving up and losing myself to frustrations as I'm drawn by something I can't see. It gives me a sense that perhaps it's not me wanting to sing this song, but rather that this song has finally accepted me as its singer. I wonder if I, whose future was actually clear to my 18-year-old self, will continue to shoulder these contradictions and convictions on my journey. Such were my thoughts on the last night of my 23rd year.
I'm extremely thankful to everyone who took part in Tanabota Live 3. I couldn't have found a more spectacular band or more outstanding staff members. There's no one more kindhearted, more skilled, or more classy. I very, very much hope we can do another concert together. Really!
And thanks so much to all of you who came to see the concert. I'm sorry you had to wait for three years. I found tremendous strength in your presence there. I'm truly encouraged by all of you, to include those who wanted to come but couldn't get a ticket. Let's make sure to meet again someday.
There was a birthday surprise for me at the last concert, and gosh darn it, you got me again. And after I told you not to do anything! We shared that huge cake with everyone. It tasted great. Written on the center of the cake was, "From everyone, we love 24 years old," which I don't understand at all…. Whatever, I won't hold it against anyone. Until next time, hooray for a wonderful Tanabota!
maaya